This is going to be longer than I normally would write, but this is so important.
I have mentioned before that there is NO better cell phone plan in the United States...nothing out there beats Solavei's $49/mo unlimited talk text and data.
Okay that's great...
But, do you want the REAL story on where Solavei is really headed?
Well, here it is. Watch this: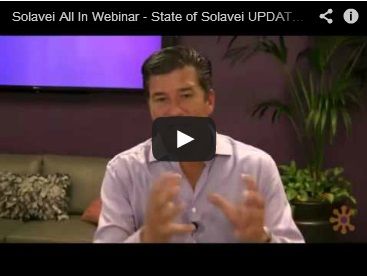 So, have you heard the buzz? Marketplace is coming. What is Marketplace? Think of smooshing Groupon, Amazon, Facebook, and the technology of Social Media together... all connected by a Purple Pay Card and a compensation plan. How to get in on that action? Simply switch your carrier to Solavei's prepaid cell phone service for $49/mo for unlimited everything.
There is a reason that Solavei was recognized a couple of weeks ago by the largest technology company in the world as one of the TOP 10 most innovative "cloud" technologies in history. Check this out:
Just like AMAZON started by offering BOOKS, Solavei started by offering MOBILE service. In their first year, Amazon did $15 Million in sales. Amazon does about $60 BILLION per year now. Solavei, in it's FIRST YEAR, has already exceeded what Amazon did in their first year... by FIVE TIMES that much.

Where will Solavei be in 3 years? 5 years? Where will YOU and your family be? Will your finances drastically change if you change nothing? Or will you look back and wish you "got that phone, paid off that $150 contract, etc" to be a part of something so massively life-changing for your family, your legacy, and your dreams?

Good grief - if you want something badly enough, add a new line, use it as your "Legacy Line" :) and buy a $20 flip phone? Do you see the HUGE opportunity here?
A company's "revenue" is one thing... but here is the most phenomenal part of what that means: Solavei has PAID ITS MEMBERS more than $12 million dollars already. There are "only" 200,000 members in Solavei right now. Our trajectory is in the tens of millions, projected to be within 5 years. All of those people are going to have to be referred by someone... Why not you? Isn't it about time that you take YOUR shot? Get your mobile service switched to Solavei, and that's all it takes to claim your spot. You start out in the GREEN, saving money. That's a good ROI if you ask me. :)
Can you imagine being invited to something this massive? Well, you are. Here's your invitation. Yeah, the savings are great... but honestly, this is like someone offering you a shot at being part of AMAZON, APPLE, MICROSOFT, COCA-COLA, etc before it really hit the airwaves.
My family has been massively blessed financially because we didn't waste time "thinking" about it. We DID it. We didn't spend time hemming & hawing over it. I encourage you to live below the line. Be the 2%. This is your shot. This could very well be your legacy for generations.
Connect with me before you set up your account, and I will send you a FREE SIM card (saves $9).
Call or text me at 469-422-5117 or message me on Facebook: http://www.facebook.com/laurawells

I'd love to chat with you if you have any questions.
Blessings,
Laura Wells